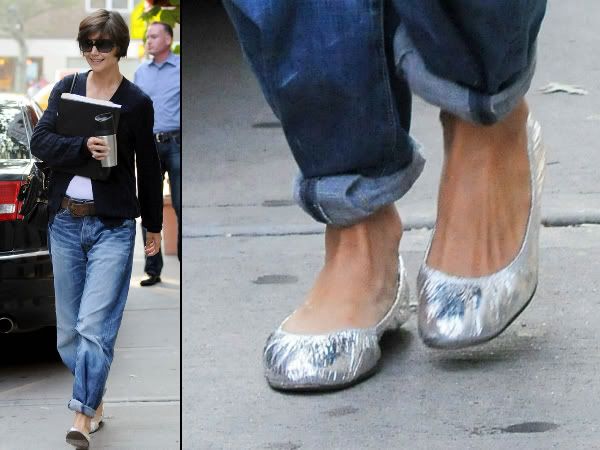 Been watching the rollled up jeans that Katie Holmes
has been sporting these pas
t couple of months and can

NOT

b
elieve that it's slowly, but surely becoming a trend. Seriously? It just baffles me how much one person can have so much influence even when the trend is so not hot. Sorta reminds me o
f the MC Hammer pants people would sport back in the day. What do you guys think of this style that Mrs. KM is sporting?

I've been super busy these past couple of weeks, hence the dip in the blogging. I have a very important date coming up that has been making me
super duper uber anxious th
at when I wake up, it's the first t
hing I think about and when I go to sleep, it's the last thing I think abo
ut it. Ugh. Sucks. Dont' really want to say what it is as I don't want to jinx it just yet! No, I'm not going into the clinic for a pregger's test. Hah!

Onto a different subject, Autumn Wedding's wedding was fantastic! I loved every single detail of her wedding. I knew from the beginning that it was going to be one lavish, beautiful
wedding. Knew it and I was right on point, too!

The momen
t
you walked into the reception are
a, you felt as though you were walking into some kind of enchanted whimsical room. She had pink lighting everywhere, different types of centerpieces on each table that were either flowered pink branches or submerged flowers in cylindrical vases. The food was
not a disappoint either. I was

in love

with my sea bass.
The wishing tree was one of my favorite details of her wedding. It was so adorable. I loved how she incorporated pink flowers, which I think were carnations at the bottom.


It truly was a beautiful wedding. Congrats, again
Mr. + Mrs. Autumn Wedding
. Thank you for allowing us to share you special day with you.