Loving Gap's Spring Line. Then again, I'm just an addict for all things Spring
. If I could, I would wear my sandals every stinkin' day of my life. I get all confused as to what to wear when it rains. Coupled with claustrophobic in my sweaters and boots. Hate feeling constricted. It just blows.
These made me smile today.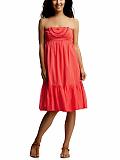 Pom Pom Dress.
$69.50. It comes in Cocoa, too!
Oversize Canvas Tote
. Comes in a variety of colors. Particularly loving the white and the eggplanty color.
$34.50